Le Petit Grignotage
Christine

Joan of Arc miniature, ~1450-1500, author unknown
Dijon has the unfortunate fate of being home to the man responsible for turning St. Joan of Arc over to the English to burn at the stake.
It is said that in 1519, a Carthusian monk showed an acquaintance the fractured skull of John the Fearless, the murdered duke of Burgundy, and remarked, "This is the hole through which the English entered France."
He was referring to the third phase of the Hundred Years War of a century earlier, during which Henry V captured and occupied Paris and all of northern France (begun, of course, by the Battle of Agincourt, the king's speech romanticized and immortalized by Shakespeare:
And gentlemen in England now-a-bed
Shall think themselves accurs'd they were not here,
And hold their manhoods cheap whiles any speaks
That fought with us upon Saint Crispin's day.).


It was through the help of Philip the Good, considered one of "the four great dukes of Burgundy", and resident of Dijon, that England was able to secure victory over Paris and all of northern France. (Why Phillip is considered good or great is beyond me.) John the Fearless had been his father. The Armagnacs, the royal family that ruled northern France, had murdered John as revenge for his murder of Louis of Orleans. Philip, in turn, avenged his father's death by allying himself with the English and helping them obtain victory over France.

The Palais des Ducs, just blocks from the city center. Philip's Tower rises in the center.
After Charles VI (known as Charles the Fool because of his mental illness) was disgraced and disinherited, the crown passed to Charles VII. It was Charles VII for whom St. Joan of Arc fought, and it was Philip who was responsible for handing her over to the English. Not only had Philip betrayed his own countrymen by allying himself with foreigners, he can be blamed for the eventual martyrdom of one of France's greatest saints (though, to his credit, he eventually revoked his alliance with England and fought on behalf of Charles VII).
As is so well known, Joan was summoned at the age of fourteen, through visions of St. Michael, St. Catherine, St. Margaret and others, to go to the aid of the uncrowned dauphin. Her first trip ended in humiliation, when a soldier told her companion to take her back home so her father could give her "a good whipping." She rejected further insistence by her visions to make another trip by claiming, "I am a poor girl; I do not know how to ride or fight." She was answered thus: "It is God who commands it." She obeyed.
On her second trip, she was taken to the king, and at her request was dressed as a male soldier. This was undoubtedly to protect her modesty (do recall she was the only female in a rough camp full of soldiers). It is said that those in her company reported an inability to think unseemly thoughts of her. Upon reaching the king's court, she immediately recognized Charles VII, who had disguised himself to test her veracity, and gave him a secret sign that further convinced him of the genuineness of her mission. Although Joan never revealed the sign to others, it is generally thought to have been her assurance, made known to her supernaturally, that he had not been conceived illegitimately (one of the king's hidden fears).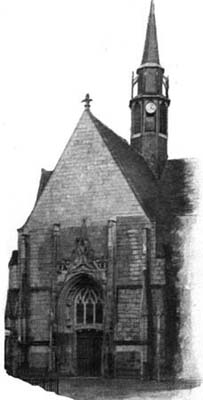 The king offered her a sword for use in battle, but Joan insisted she must instead use an ancient sword buried behind the altar in the Chapel of St. Catherine-de-Fierbois, revealed to her by her visions. The sword was found precisely in that spot. She had a standard made, with an image of God the Father seated on a rainbow, against a background of gold lilies, holding a globe in one hand and the other raised in benediction. On each side is the kneeling figure of St. Michael and St. Gabriel presenting fleur-de-lis, and the motto across the banner is Ihesus-Maria written in gold. She carried this flag with her into each battle.
Victories quickly followed at Orléans, Jargeau, Meung-sur-Loire, Beaugency, Patay (considered the reverse of Agincourt), Troyes, and Reims, where Charles VII was finally crowned king of France, with Joan bearing her standard beside him ("as it shared in the toil, it was just that it should share in the victory.")

St. Therese of Lisieux dressed as St. Joan of Arc
After her main mission had been accomplished, it seems she suffered several defeats in battle afterwards, eventually being captured at Compiègne by Duke Phillip's troops and turned over for 10,000 francs. After an unfair trial (all the notes of which remain extant), Joan was condemned to burn at the stake. Upon hearing her sentence, she cried out that her voices, which had told her her life would be spared, had deceived her. One hopes that, before her end came, she realized the true import of the saints' promise: that her life would indeed be spared, the only life that matters in eternity—the life of the soul.
She was, mercifully, allowed confession and Holy Communion (which had been denied her throughout her imprisonment). It is said her last moments moved even her enemies to pity. She asked two clergy to hold a cross level with her eyes so she could gaze upon it through her torments, and repeatedly spoke the name "Jesus" to the end. We don't know how she suffered, although one pious account states she was miraculously spared any physical pain during her ordeal.
After all was done, the English raked the coals to reveal her charred corpse (as proof to the crowd she had not escaped alive), burned her body twice more until it was reduced to ashes, and threw the remains into the Seine. She was beatified in 1909, and canonized in 1920.

Ste. Jeanne D'Arc, Eglise St. Michel, Dijon
It seems Joan continued to help the king after her death; the Hundred Years War ended two decades after her martyrdom, and by the end of Charles's reign he had recaptured every English territory (except for the Channel Islands and Calais). This raises an interesting point: one wonders why it is that God raised up Joan of Arc to take France back from the English, when we consider that Christ's love knows no boundaries, and that saints blessed English soil as well as French. One account I've heard is that God was protecting France from the devastation (of which only distant and ominous rumblings were then being heard) that would overtake England during the Reformation: the desecration of churches, the rape of monasteries, the slaughter of priests, the disintegration of the Catholic faith. (Of course, France would have to wait several more centuries before such would come to pass in the land of the lily.)

Ste. Jeanne d'Arc, Eglise Notre Dame, Dijon
You can read more from Christine at her own blog, Laudem Gloriae.